~~ ~~ ~~ ~~ ~~ ~~ ~~ ~~ ~~ ~~ ~~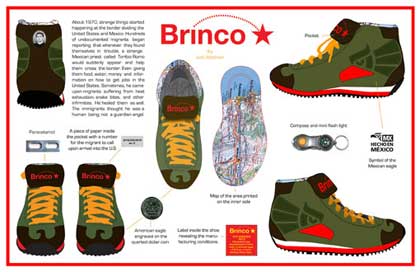 we make money not art: Trainers for border crossers:
Judi Werthein has designed a special "crossing trainer" to help illegal immigrants cross the border from Mexico to the US.

The shoes are named Brincos for the Spanish verb "brincar," which means "to jump" —as in, across the border. They includes a compass, a flashlight because people cross at night. The pocket in the tongue hides money or some Tylenol painkillers because many people get injured during crossing.
~ ~ ~ ~ ~ ~ ~ ~ ~ ~ ~ ~ ~ ~ ~ ~ ~ ~ ~ ~ ~
~ ~ ~ ~ ~ ~ ~ ~ ~ ~ ~ ~ ~ ~ ~ ~ ~ ~ ~ ~ ~


archives: